SUNSHINE AWARD!!!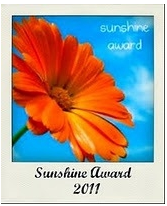 I've received the SUNSHINE AWARD!
1. Thanks so much to Lisa of Lisa's Kinderland for awarding me the Sunshine Award! That was such a nice surprise.
2. Some of my favorites...
*Favorite animal? Fish
(very calming after busy days)
*Favorite number? 13

(I know - most people's LEAST favorite #)
*Favorite drink? Without a doubt - Mt. Dew

(I'd rather drink than eat!!!)
*Facebook or Twitter? Facebook
*Giving or getting presents? Giving
*Favorite day? My kids' birthdays and the 1st day of summer vacation
3. These are some of my favorite blogs...
2. DeeDee at
Mrs.
Wills Kindergarten